To effectively generate leads through LinkedIn, you need to:
Create technical accounts through which you will attract leads
Optimize the created accounts
Develop a process of interaction with prospects
Create content for the message seqeunces
To help you fulfill all these points, we provide the tips for each of them. These tips are based on the Impasto.io team's experience of interaction with customers on LinkedIn and on tests we have conducted.
Creating technical accounts
Starting in 2021, LinkedIn has reduced the number of invites you can send from one account to 100 per week. To send more invitations, you can choose a paid LinkedIn plan and use the number of InMail notifications corresponding to your plan, and improve your SSI (Social Selling Index) score.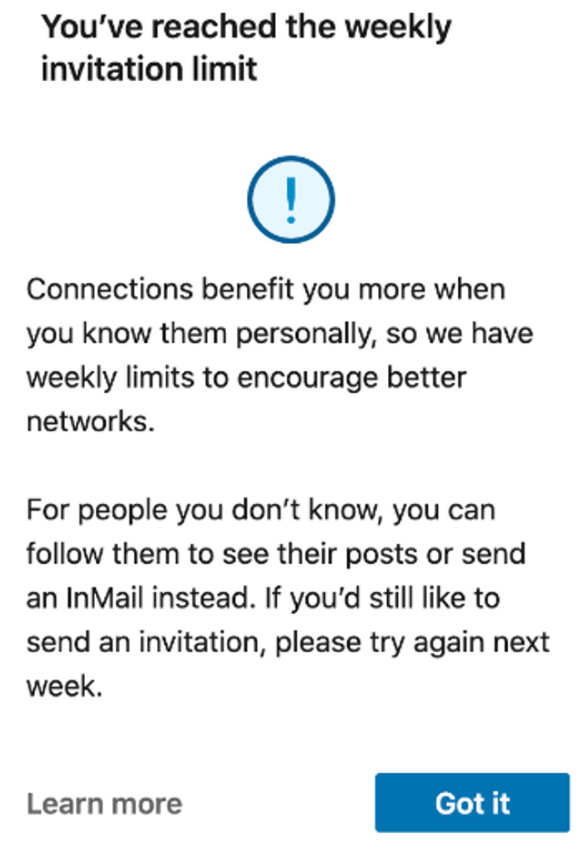 To scale your campaign and avoid restrictions for your personal profile, we recommend using multiple technical LinkedIn accounts. Technical accounts are created specifically for automated outreach campaigns to avoid risks and limitations. When using them, you should pay attention to precautions, as LinkedIn can block suspicious accounts.
To avoid blocking and guarantee a quality outreach, we've put together a brief guide on how to create and warm up a technical LinkedIn account.
Step 1: Create a new account and fill in all available sections. We recommend creating at least 4 technical accounts for different positions of executives (CEO, COO, CSO) and managers. In the profiles, indicate the country your outreach is targeting.
Step 2. Manually add colleagues and friends so that you have the first wave of connections. After adding your inner circle, continue adding15-20 2nd-degree connections (friends of your friends) per day. You can focus on adding recruiters to speed up the process. This way you will get 100-150 connections within 3-4 weeks. See more on how to warm up your profile.
During these 3-4 weeks, be active online – add posts to your page and comment on other people's posts at least once a week. This is a signal to LinkedIn that the account is managed by a real person.
When you have 100-150 active connections, you can start your first automated campaign. However, follow three simple rules:
send at least 70% of invitations to 2nd-level contacts
at least 70% of invitees should be from your industry and region
send no more than 20 automated requests per day
Continue posting content on your profile: add videos, photos, and polls. Do not forget about likes and comments under other people's posts.
When you reach 500 connections, expand your automation. However, do it gradually, increasing the number of daily invitations by 3-5 every week.
While running automatic campaigns stick to the limits specified for your current SSI score.
Optimize technical accounts
LinkedIn has a system for rating profiles using the Social Selling Index (SSI). You can check the index for your account here – https://www.linkedin.com/sales/ssi.
It is advisable that the SSI for your account is more than 80.
If this is not your case, don't worry – we can help you increase the SSI for your accounts.
Below is a checklist for you to check your account for compliance with the best optimization practices. If any of these are missing, please fill in the blanks.
[ ] You are using a high quality face photo, 400×400 in size, that is visible to everyone on the web. You have also set a background image of 1584×396 pixels. It represents your company or your hobby.
[ ] Your page has an original and informative title of up to 120 characters. The title contains keywords from your industry that help others find you more easily.
[ ] You've added a summary to your account that is short and interesting and includes keywords from your industry. You remember to include media files – photos, videos, infographics – that clearly showcase your business and experience.
[ ] Only relevant experience is listed on your page. You have listed your achievements and updated your current position. You share interesting projects that you are implementing.
[ ] You have listed skills that match your current career interests and asked others to endorse them. You update them once a year, or as soon as you master a new skill.
[ ] You have edited the URL of your LinkedIn page. Instead of automatically generated letters and numbers, your page URL contains your first and last name.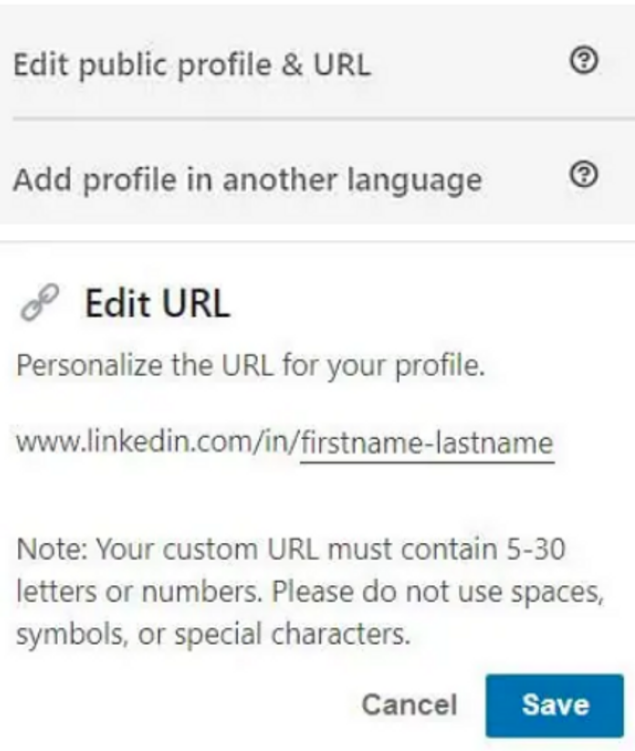 [ ] Your profile includes certificates relevant to your experience. For example, a certificate that confirms your English level or a personalized certificate issued when you mastered Google Analytics.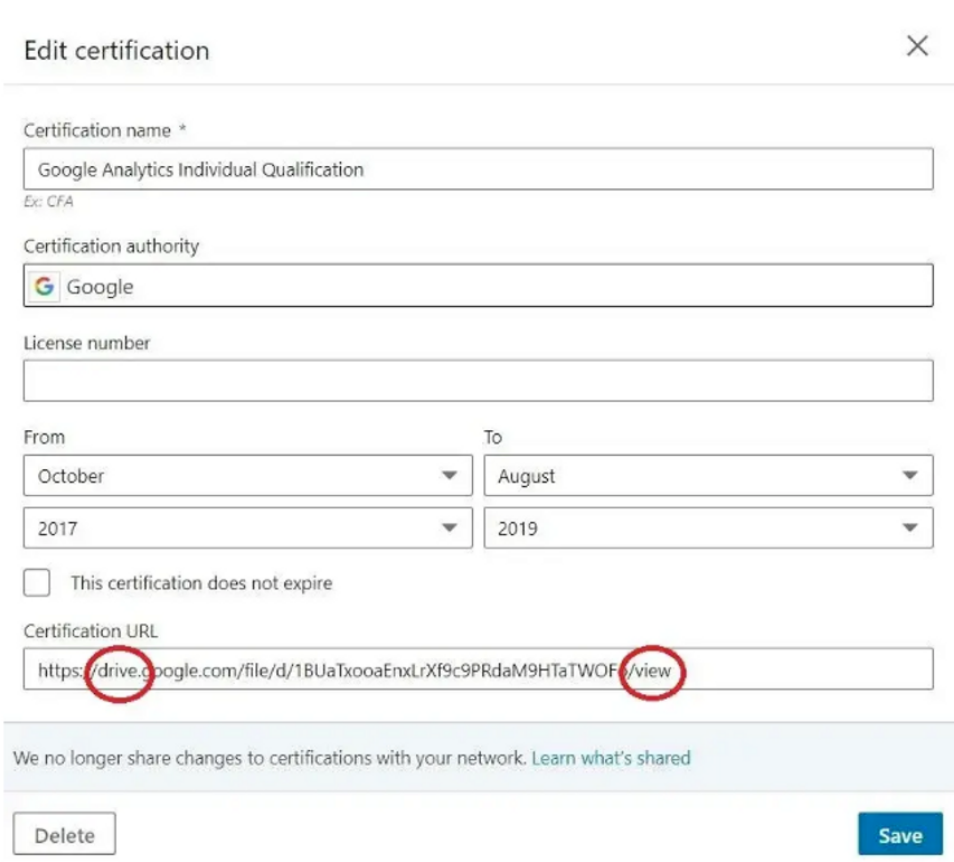 [ ] You send your friends and colleagues requests for recommendations. Recommendations from your colleagues are highly weighted when LinkedIn evaluates your profile. One of the ways to get a recommendation is to give a recommendation to someone else. You can find this option on the page of the contact you are interested in by clicking "More" in the header of their profile.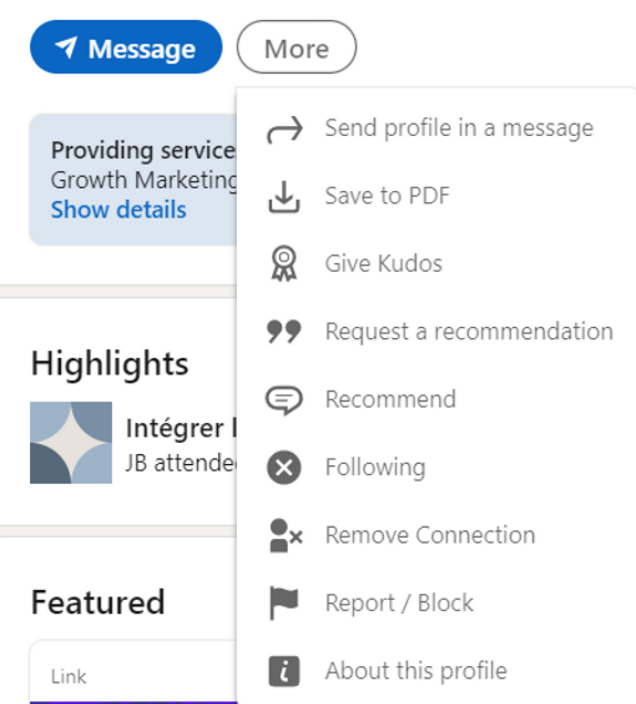 [ ] You add professional posts to your page every three months. They have titles of up to 60 characters and include keywords and hashtags. You also tag people in your industry when you publish a post, expanding your reach.
[ ] By commenting and liking other people's posts, you signal to LinkedIn that you are highly active in the network. In addition, engaging with other people's posts can also encourage them to engage with your content.
An interaction process
Here is how your interaction process may look like:

That is, you have to send at least three or four messages to a prospect before you lose hope of getting a response. According to research, the second message increases the response rate by 27%, and the third by 7%.

Therefore, do not stop at one message, but keep pauses between sends in your sequence.
So, let's move on to the instructions for interaction:
Send an invitation (invite) to add to your contacts. You can add a short message here if you have a good reason, or leave the "Invitation note" field blank.
Once the contact has accepted your invitation, send the first message. However, don't send it right away. Give it a break for up to an hour. In Impasto, even if you select Delay Immediately, the message will be sent with a slight delay to replicate human behavior.
If you do not receive a response, send another follow-up message in 1-3 days.
Still no response? Send the third message 6-7 days after the previous one.
This sequence, with a well-thought-out content strategy, will allow you to start communicating with the majority of those who accepted your invitation.
Create content for the message sequences
When creating content for messages, preliminary research on your ICP and Buyer Personas is useful. After all, it's important to set up "triggers" in the message to attract the attention of your potential customer. Such "triggers" are the problems that the client wants to solve, familiar terms, technologies, something relevant to his experience, names of competitors.
However, it's worth remembering that every LinkedIn user who makes decisions in their company receives a lot of sales messages. And they have little time to spare. Therefore, you have to not just sell, but offer something really valuable, and fit your offer into a minimum number of words.
To help you get started, we've put together a list of tips for creating messages.
Your messages should be under 300 characters. According to research, these are the messages that get the best response rate.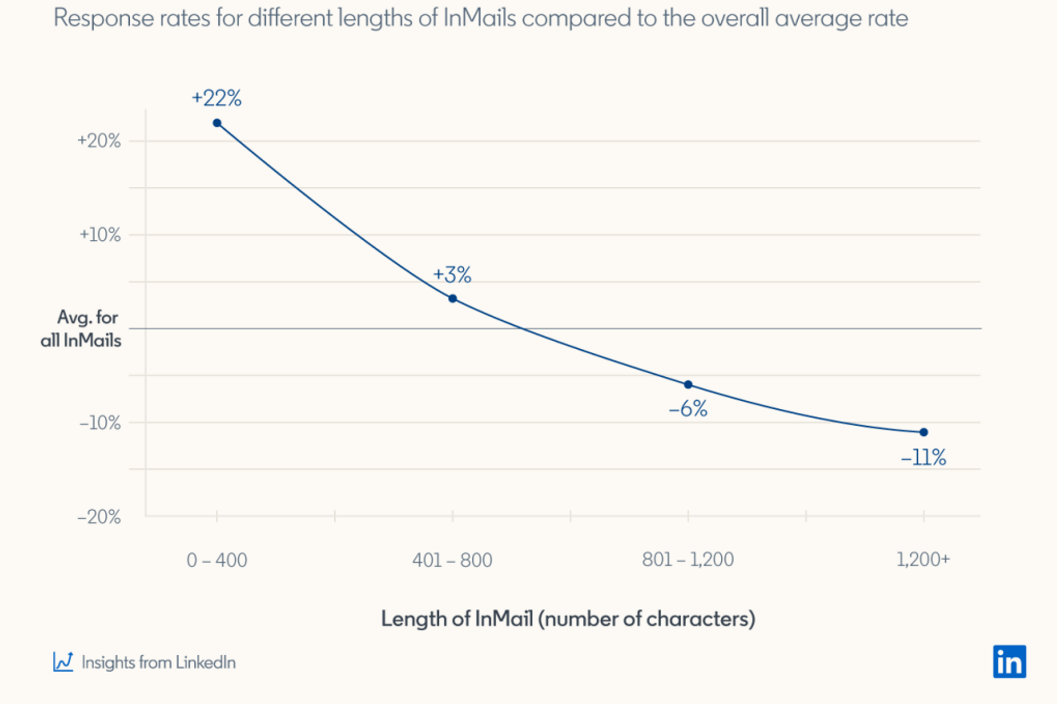 2. Don't send a pitch with a meeting invitation in the first message. The purpose of the first message is to determine if your prospect is a qualified lead. So ask them questions about their potential problem. If there is a problem and you can solve it, invite them to a meeting.
3. Every follow-up message you send should add value. You shouldn't just remind people of the first message in the second one. It is better to provide new value that was not mentioned before. For example, it could be a link to a research you've done, or even a link to a short video guide or portfolio. Below is a rating of the best content materials that can be useful for outreach.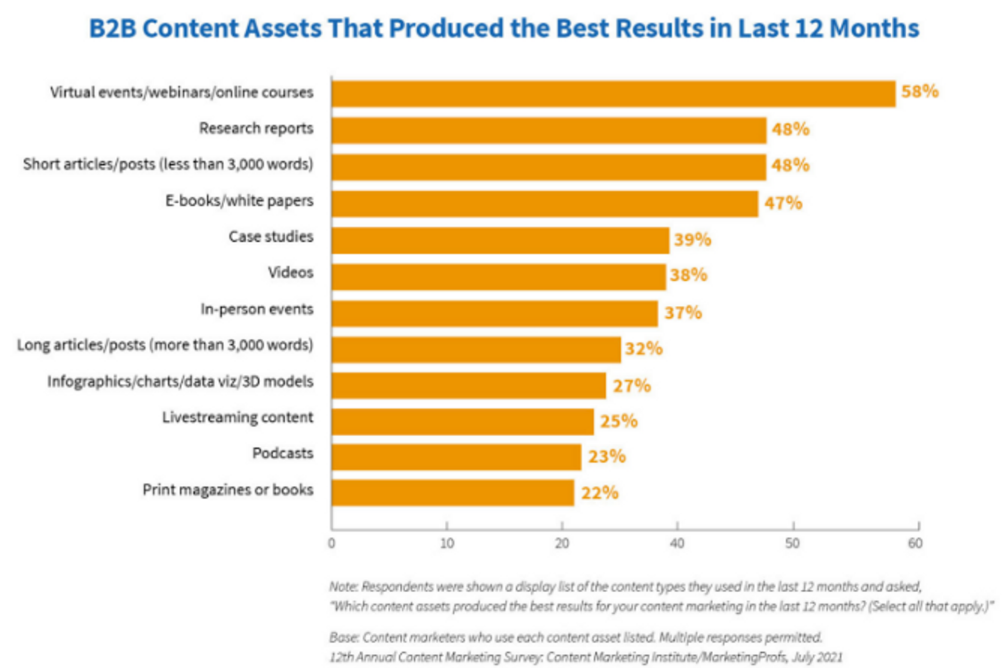 4. Use 3-5 different "triggers" in a single message, such as the prospect's professional field and interests, typical problems in his industry, technologies and terms, names of competitors and relevant experience, his name and his company's name. You should vary the "triggers" for different messages in the sequence.
5. Regarding the value you provide, talk the perspectives of using your product so that your prospect understands the benefits of communicating with you. Try adding a "tease" to intrigue the prospect. For example, "we have a secret that has helped 24 companies increase their profitability by 8 percent."
6. Support your words with facts and figures. For example, if you write that you've talked to entrepreneurs in his industry or conducted a survey in his niche, indicate what percentage of entrepreneurs have certain problems.
7. Be specific, do not write general phrases such as "I work with businesses similar to yours". Include the names of the companies you have worked with. This will make your message more credible.
8. Use accessible and understandable vocabulary, but do not forget about the originality of the message. Do not use templates.
9. Personalize your messages. Impasto.io provides a great opportunity to personalize messages with variables such as the person's name and company. Moreover, the system has a unique feature for personalizing link previews. Let's say you want to invite a prospect to a webinar. Create an original picture with a personalized caption and use it as a preview of the link you've added to the message.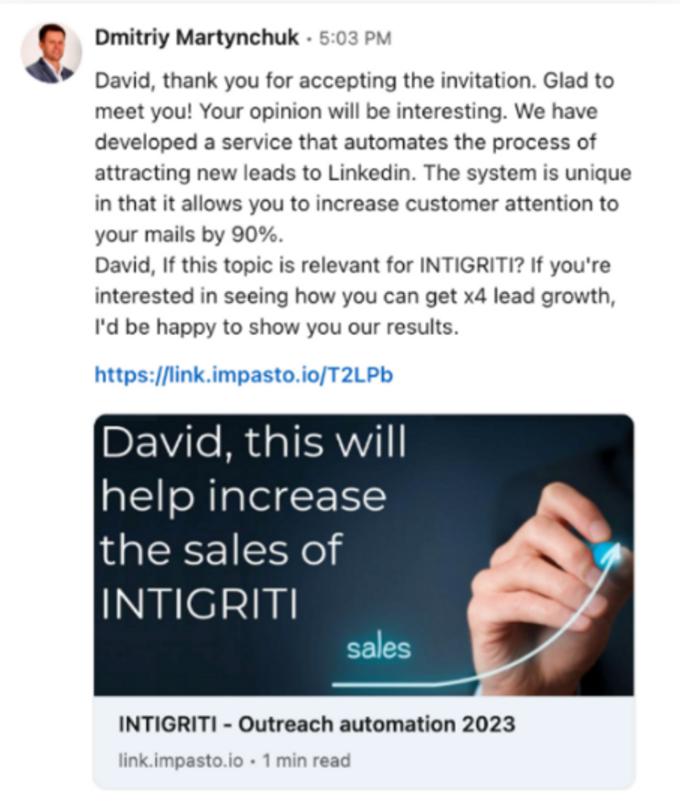 To summarize all of the above points, be concise and direct, but original and specific, and encourage your prospect to pay attention to your message by providing value and using "triggers." And of course, don't forget to personalize your messages and media content.
We hope you found this guide useful. If you have any questions, please contact the Impasto.io team.