Before launching lead generation campaigns, you need to define who your potential customer is. To do this, we suggest creating Ideal Customer Profile and Buyer Personas.
Ideal Customer Profile (ICP) is a description of the ideal company that consumes your product, and Buyer Persona is an ideal portrait of the personality of the consumer you want to attract. These ideal companies/persons are the ones who are most likely to buy your product, need it the most, are loyal to it, and will recommend it to others.
Why do I need to create an ICP and Buyer Personas before launching outreach campaigns in Impasto.io?
Properly configure the search for potential customers (prospects).
To create marketing campaigns that accompany the lead generation process on LinkedIn (optional).
For create the relevant message sequences for the best conversions.
How to create ICP and Buyer Personas?
To create ICPs and Buyer Personas, you need to answer a number of questions, such as about the pains and goals of your ideal customers, their industries and buying processes.
To have access to the document with the complete list of questions, please contact the Impasto.io manager at team@impasto.io.
If you want to reach out to more than one group of potential customers, define these groups separately. Segmenting your audience will help you create more targeted messages that meet your customers' needs.
Here is an example of created Ideal Customer Profile: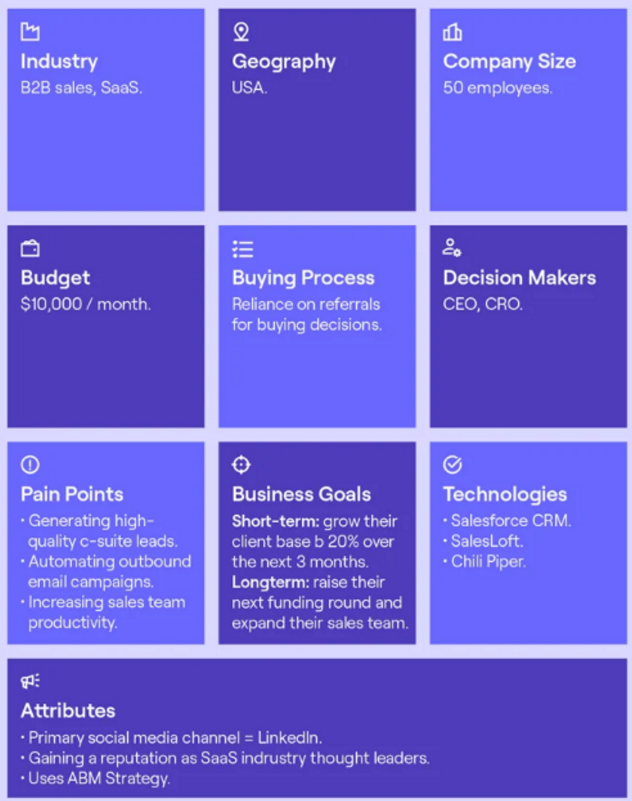 If you've come up with a complete picture of your ICP and Buyer Personas, let's move on to the next step.
The next step is to learn the basic rules and principles of creating outreach campaigns on LinkedIn. You can learn all about it here – [Creating Outreach Campaigns].