UPD: Within a week of the initial publication, LinkedIn's notification about limits for invitation messages disappeared. As of November 1, no warnings are present and the character limit has been restored to 300. This may indicate that LinkedIn has completed testing a new system of limits and we may soon see the implementation of new limits.
A few days ago, LinkedIn updated the limits for personalized messages in invitations. It came to light after we tried to reach out to prospects manually.
What have we found? Trying to send an invitation note through the basic profile, we have seen the following notification.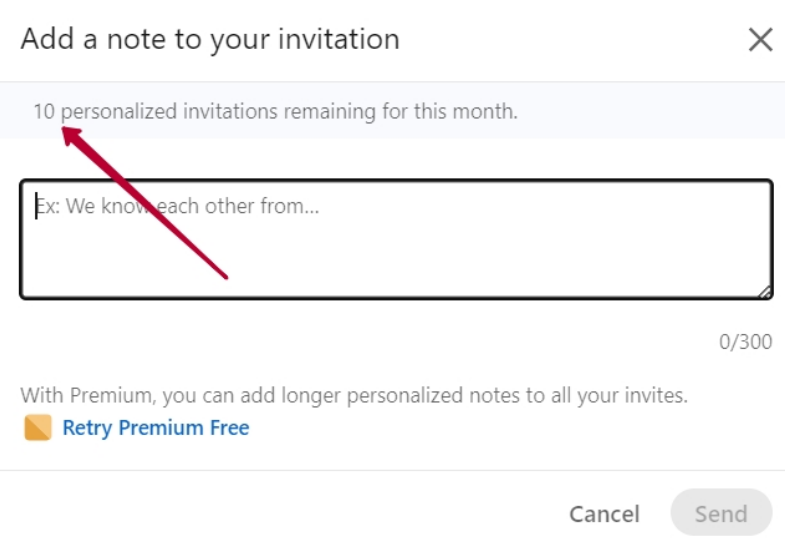 We tried to do the same for roughly ten profiles, and the result is as follows.
As for now, if you use a basic LinkedIn account, you are limited to up to ten personalized invitations. In some cases, there was also a three and five-message limit. The number of Linkedin invitation message characters has been also changed. In many cases, it was no more than 200.
There is no official announcement of this update on LinkedIn sources. However, other users also noticed this shift.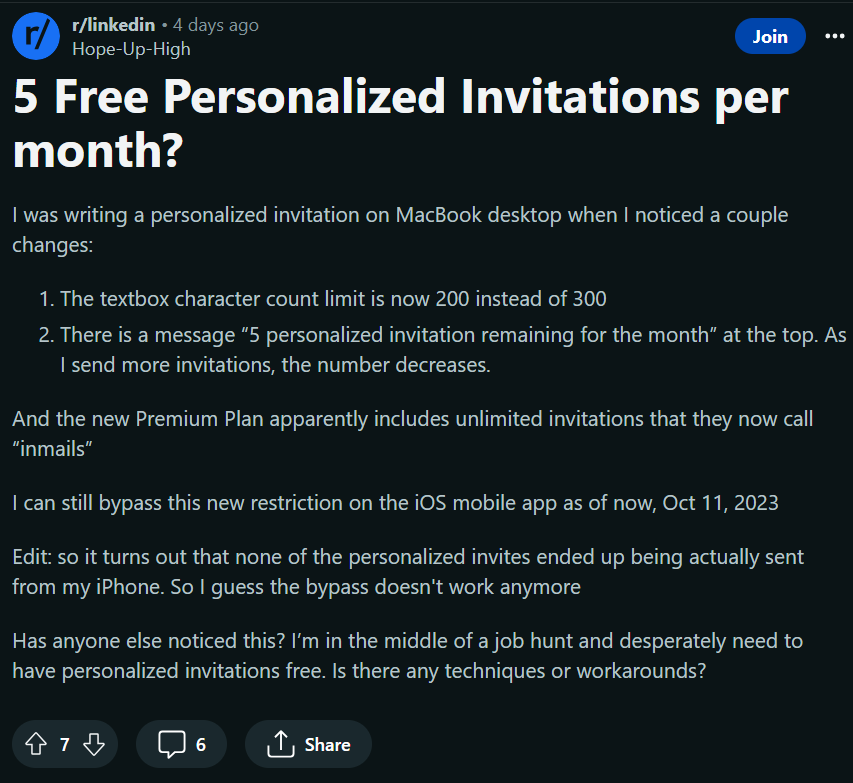 The above limits are detected on desktop devices. If trying to send an invitation note using the LinkedIn mobile application, the system offers to upgrade to its premium version without mentioning any limits.
How the new LinkedIn invitation limit influences outreach campaigns
From this moment, if you want to send outreach campaigns with invitation notes in bulk, the best way to bypass restrictions is by upgrading your profile to LinkedIn Premium, LinkedIn Recruiter, or Sales Navigator. In this case, you will have InMails for sending messages to people not in your network. The number of InMails depends on your plan. To get an idea of the price of a premium feature, note that LinkedIn Premium starts from $39,99, and Sales Navigator Core costs $99,99.
Another approach is to continue sending outreach messages without invitation notes. It is also quite a case, as some studies show that message sequences without invitation notes are equally or even more effective than without the notes.

If you are running outreach campaigns with Impasto.io and face any difficulties exceeding LinkedIn limits, contact our support team.